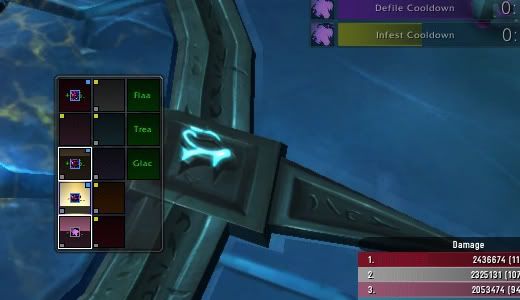 I'm pretty shocked that people think shield spam is making or has made a come back because of the
Power: Word Shield buff in patch 4.0.6
. Let's clarify a few things...
There were two major reasons that disc priests shield spammed throughout Icecrown Citadel. The first is that Power Word: Shield was the strongest spell we had in our arsenal. Disc was a perfectly viable tank healer in tiers 7 and 8, but that disappeared in Trial of the Crusader and ICC. Tank damage was tuned to paladin single target healing and disc couldn't keep up with paladin throughput, especially after the
Penance nerf
. Being stripped of our ability to tank heal, Power Word: Shield became the best thing we could do, which was perfect because...
The second reason we shield spammed in
Wrath
was starting with
Algalon
and continuing into parts of ToC and all of ICC, the types of damage that Blizzard designed into raid encounters were ideal for being dealt with by shields. Damage was either continuous ticking damage auras, avoidable one-shots, or unavoidable almost-one-shots randomly dealt out to a handful of players in the raid. Those types of damage were perfect for being dealt with by shield spam. Ever go back to Ulduar during ICC and try shield spamming? I went back almost every week to farm Mimiron head mounts with my guild and shortly after I started shield spamming I tried transferring the playstyle to one of our farm runs. What I found out immediately was that shield spam wasn't viable in the wrong damage environment. All I did was waste my time and mana pre-shielding the raid for damage that rarely came. Think back to Ulduar and the spells you used... Circle of Healing, Surge of Light Flash Heal, Penance? Yeah, there was a reason you used those spells, and it's not just because they were well tuned. It's because those spells were good for dealing with that damage design.
Damage design is the reason shield spam won't come back anytime soon. Blizzard has learned their lesson (this why druids are not getting brought to many fights by top guilds -- because too much of their arsenal relies on certain types of damage to be effective.) There is really no reason to shield spam in the existing content unless you only play a healer to get to the top of the effective healing meter and chaining Innervates on a player to support this kind of wasteful play is nothing short of stupid.
"But what about phase 2 Heroic Chimaron, or Dark phase on Heroic Maloriak? What about--" Before you think that, let me finish. There seems to be some confusion on
what
shield spamming is. Shield spam is continuously applying shields to the whole raid until they're used or faded, then doing the same exact thing again. It's doing this endlessly throughout a fight regardless of what phase you're in, what boss mechanic is next. This is what shield spam was in ICC and it was very effective (both by actual definition and meters) for being so simple and stupid. That's why people laughed about disc taking no skill to play; because you didn't need skill to play it anymore. Just go up and down your raid frame push one button and then repeat when you get to the end.
That
is what shield spam is.
Shield spam is
not
blanketing several groups in shields before Malygos' air phase, XT's Tantrum, Maloriak's dark phase, or the last phase of Chimaeron when healing doesn't work but mitigation does. Using shields pre-emptively to an incoming mechanic is smart play, it's the same as a holy priest queuing up a Prayer of Healing incoming raid damage. You should have
always
been doing this as a disc priest ever since Soul Warding was introduced at the end of tier 7. You should have been doing this before patch 4.0.6, and should continue to do it for as long as you have the ability to do so. It's is a cornerstone to the playstyle of discipline. But make no mistake: this is not shield spam and very little of the current content would be best dealt with by shield spam. Stress on the word best. See, I have no doubt shield spam can be used in current content to deal with damage, but take in mind it's not sustainable and it's not called for. That means you shouldn't be doing it. It's not called for and to suck up precious Innervates for it is foolish. That kind of behavior only serves to play the meter game, not the actual game.
So pleased don't fall into a trap of using one spell again because you're still detoxing from
Wrath
.
Cataclysm
is a different game and it requires a smarter style of play that everyone should be capable of if they choose to be.